History,
Thrain's Halls was Founded By Lord_Gil_Galad, Current lord of The city Who will hold the position Until the city is Built, The city itself Is built in the iron hills with 2 frequent Players who are, Rikz5 and Lord_Gil_Galad
The halls can be found east of west peak WayPoint in the Iron Hills, If you follow the road You will find it Blocking the Mountain pass, Although the city is a heavy WIP But can still be seen from The Nearby lake
The city was founded on 13th of december 2015 At a later date (Around The 15-14th) The Village of forge was built, And there Goverment wich has 4 of 7 seats held
The High governor Rikz5
Governor Eylenbosch
Governor Lord_Gil_Galad Thrain's Halls East Flank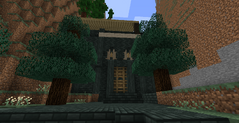 Governor
Governor
Governor
Governor
City's Members
The members of the city are, Wolffe, Lord_Gil_Galad, Eylenbosch And Rikz5
Other members will be admitted to Forge, Until Trusted To thrain's Halls
This wiki will be updated when needed -Gil
Ad blocker interference detected!
Wikia is a free-to-use site that makes money from advertising. We have a modified experience for viewers using ad blockers

Wikia is not accessible if you've made further modifications. Remove the custom ad blocker rule(s) and the page will load as expected.